Amalfi Coast and Positano
DAYS OF DELIGHTFUL DISCOVERY
Capri Boats will help you start your morning by meeting you at Marina Grande, Capri's pretty harbour, at a time of your choice.You will begin to experience the breathtaking views of this magical place from the sea, such as the enigmatic Grotta Bianca. A little further on is the Grotta Verde and a chance to swim in itsemerald green crystal-clear waters.
You also won't want to miss the Faraglioni Rocks and, of course, the famous Blue Grotto (Grotta Azzurra). Local rowboats will take you into the grotto from our boat to experience its spectacular natural lighting effects. The iridescent blue colour of the water is produced by the upward reflection and refraction of sunlight off the sand on the seabed. There is a local charge of EUR 13.50 per person to enter the Blue Grotto.
Following our exploration of Capri by sea, we will head for Positano, taking in the wonders of the beautiful Amalfi Coast along the way. We would recommend stopping off for lunch in Nerano, a small fishing village on the way to Positano. Nerano offers unique waterfront restaurants serving exquisite local dishes. Whether you have your own preferences or want to try food particular to this area, the chefs will serve you culinary delights.
After lunch we will head for Positano and we can stop off to allow you to explore its picturesque townscape. Whenever you are ready, we will head back to Capri.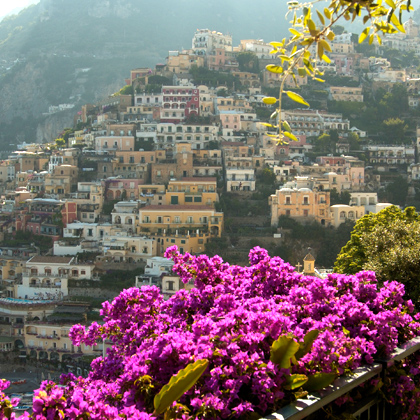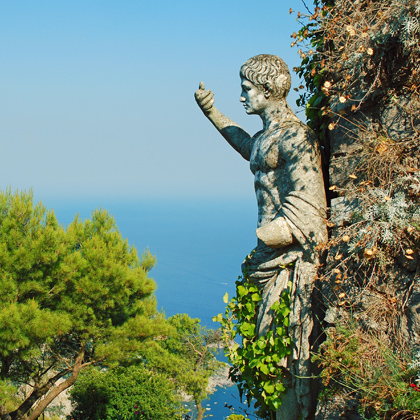 We just arrived back in our hotel in Positano and I had to write immediately to tell you how fabulous our day was on that luxury boat with our charming captain! It absolutely without a doubt was my favorite day ever! We had an amazing time - the Blue Grotto, fabulous meals in delightful restaurants, beer, wine, swimming in the beautiful clear water and the captain's attentive service. This whole trip is for my 50th birthday and this day was so perfect I had tears in my eyes when we returned to Positano. Thank you again.
Mike and Linda, USA
The Isle of Capri rises enticingly from the deep blue Mediterranean, its craggy landscape resplendent in the light. You will discover many treasures ashore but there is nothing quite like spending a day with Capri Boats exploring the island from the sea.